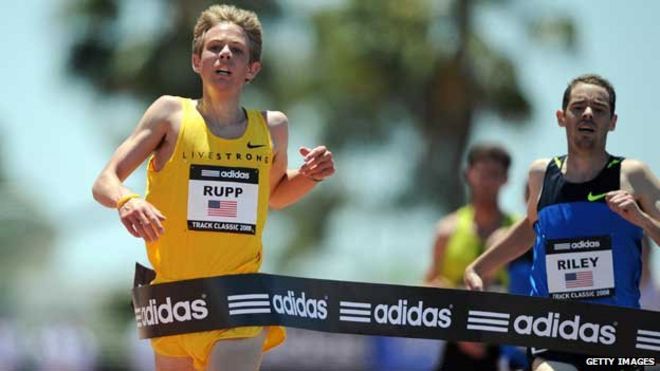 "Alberto Salazar has been accused of violating anti-doping rules, including claims he was involved in doping US record holder Galen Rupp, in 2002.
Were these athletes doping during the 2012 London Olympics?


Rupp and GB Olympic gold medalist Mo Farah are part of Salazar's US stable, the Nike Oregon Project."
http://www.bbc.com/news/uk-scotland-32877702
Rumours had been circulating around the time of the London Olympics that the Brits had developed something "special" prior to the London Olympics, that was giving many of its athletes the competitive edge. Standout performers included British runner, Mo Farrah, and American ,Galen Rupp, both members of Alberto
Salazar's Nike Oregon Project (NOP) team. Were they doping? Had they discovered a performance enhancing substance that was not illegal? Were they bending the doping rules? Had they found a legal loophole?
Here's an interesting programme that details TUE can be manipulated, the links between UK athletics and Salazar and the presenter shows how easy it is to dope and get away with it (WADA only catches an estimated 2% of dopers):
A few months after the London Olympics, the Wall Street Journal published an investigative report revealing that NOP athletes, including Rupp, had been prescribed medication for hypothyroidism by a New York endocrinologist:
http://www.theguardian.com/sport/2003/apr/24/athletics.duncanmackay
You can read the Wall Street article here:
http://www.wsj.com/articles/SB10001424127887323550604578412913149043072
You will gather, when you connect the dots, that there appeared to be some very dodgy stuff going on.
My assumption, later proven to be pretty close to the mark, was that Farrah and Rupp were using thyroid hormone, possibly adrenaline as well, and doing so quite openly, because what they were taking was either not illegal under the doping regulations, or they had therapeutic use exemptions (TUE) to do so. Whatever might have been the case, something stank - in my opinion - and in the opinion of some others who love running and who detest the cheats, including those who manipulate TUE's to take drugs like thyroxine and Prednisone (a steroid Rupp was apparently taking in 2002).
Yes, I was on the money:
http://www.dailymail.co.uk/sport/othersports/article-3112885/Stop-stars-abusing-thyroid-drugs-say-runners-amid-Alberto-Salazar-doping-row.html
Early 2013 I was invited to give a talk to the Scottish Harrier Club in Wellington on the topic of avoiding burnout in athletes. Much of the presentation was about adrenal and thyroid health issues which are endemic in over-trained athletes and I mentioned the case of the use of medication by some of Salazar's NOP athletes. By contrast, I advocate the treatment of thyroid and adrenal fatigue in athletes by modifying their training and the use of nutritional support - not drugs.
George Arbuthnott,
an investigative journalist with the Sunday Times, working with David Walsh, who blew the whistle on Lance Armstrong, somehow found out about my presentation to Scottish Harriers. George contacted me in February 2014, while investigating rumours that some of Britain's athletes were being wrongly diagnosed with conditions thus allowing them to take performance-enhancing medications under the TUE.
Incidentally, I think the TUE is an open invitation to cheat, with huge grey areas and regularly abused:
"So here's something interesting...chatting to Dr Jeroen Swart, respected sports physician & coach, and he points out that the use of corticosteroids (like prednisone that Galen Rupp is alleged to have used) is prohibited ONLY IN-COMPETITION, with TUEs for certain cases.

The glucocorticoids are not listed as "Prohibited at all times" (see screen grabs from the WADA prohibited list below - the list of prohibited at all times list is on the left, and in-competition is on the right), which means out-of-competition, you don't even need a TUE, there's no restriction.

In other words, athletes can use corticosteroids, with all their benefits, until about a week before competition, and they wouldn't even need a TUE for it.

I'd never made the conscious link until this discussion, but it's really bizarre that the restriction (via TUE) of these substances only applies to competition, and not training. Better recovery, harder training, greater benefit, and race clean.

And wait, there's more - the same applies to stimulants, so people can use them in training, get the benefit, and then race after a 'clear-out' phase. Obviously, there's an ethical issue here, but the WADA list doesn't cover them out of competition. Loophole...

It seems so ludicrous to me, I feel I'm missing something, but the WADA list invites this approach."
Comments by sports scientist, Ross Tucker
Rumours were circulating that the British had found something "special" prior to the London Olympics, that was giving many of its athletes the competitive edge.

I introduced him to a source close to NOP (not my sister, Lorraine) who provided most of the information that led to the article that was published in the Sunday Times that revealed the questionable use of a secret form of L-Carnitine by NOP, possible injected.

This is the article that George finally wrote (sorry, you have to subscribe to read it!). Its an intriguing read:
"The cycling connection is how this is going to unravel. The NOP is a small group, and there are just a small number of inside people who know what's going on. Cycling teams are different though, a lot of people, and different faces coming and going all the time. Someone will get caught with it and then WADA will know what to look for."
It is a crying shame that doping continues to be an ongoing issue. Like corruption in sport (think FIFA) everyone involved, including the innocent, are irreparably tainted. Every exceptional performance is called into question. Meanwhile the clean ones, who usually come 5th, or lower, miss out on the winnings, the sponsors and the team selections. They may be forced into early and often impoverished retirement, while the cheats go on to become celebrity millionaires. Its just plain wrong.


Also, this is great opportunity to tout correct training as the path to excellence. Coaches who need to lurk in the shadows looking for the edge do not believe in their training, as Lydiard did. Here's the training coaches need to produce clean high performers:
The advice in these articles is given freely without promise or obligation. Its all about giving you and your family the tools and information to take control of your health and fitness.